Projects
Showcasing some of my latest personal developments & endeavors
Multiboard
Departure boards are often the hallmark of iconic transportation systems, so much so that the signs often become icons themselves. However, there's a lack of clarity, information, and unification across systems and designs. That's where Multiboard comes in.
Powered by Python and Flask, Multiboard integrates with more than 15 of North America's largest transportation systems to provide users with a customizable, visually-appealing, and powerful departure board for any station in the system.
Multiboard: it's your multi-tool for transit system departure boards.
TransitNotify
With intercity travel, trips are notorious for shifting delay levels, especially when considering built-in schedule padding. TransitNotify is a tool that provides real-time push notifications for various intercity carriers, including Amtrak via the exceptional asm.transitdocs.com site, Greyhound, various Commuter Railroads, and more.
Be it figuring when to depart, knowing where you currently are, or where someone is that you need to meet, TransitNotify keeps you in-the-know with exactly where you are and the operator's upcoming predicted times.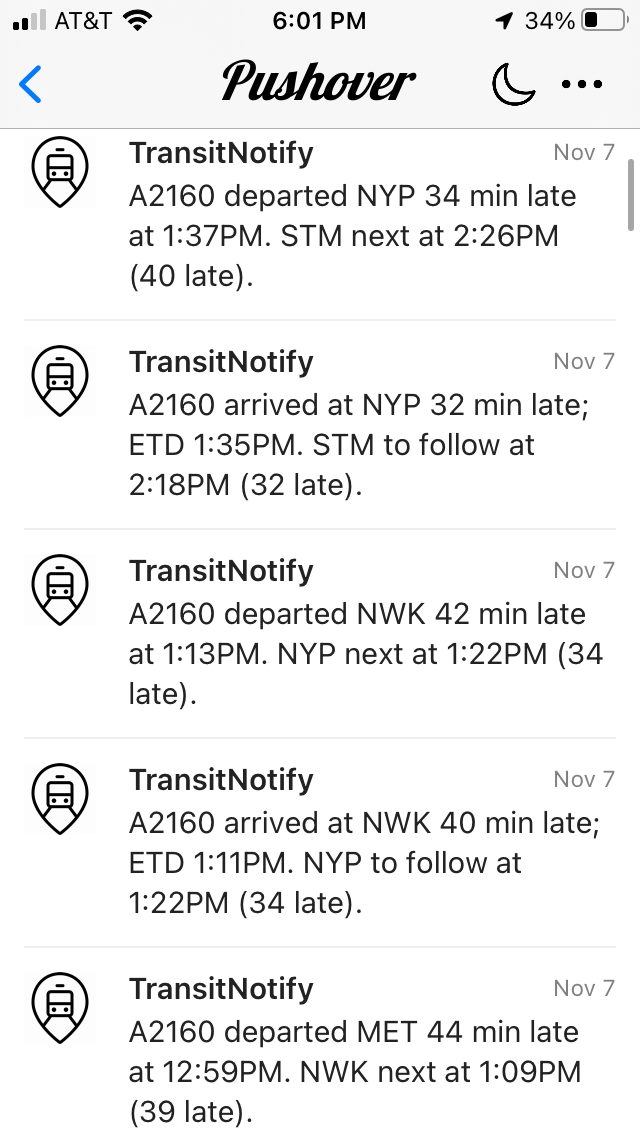 GPS Data Auditor
Serving as the basis for a data audit that galvanized SEPTA to invest in better real-time data, the GPS Data Auditor tool simultaneously captures live GPS data from a user's phone alongside an agency's real-time location and prediction data for the given vehicle/trip.  Afterwards, the data can be compared to analyze the real-time GPS information and prediction accuracy.
Stringliner
Transportation planners have relied on "stringline" diagrams since the dawn of the profession given their easy ability to visually convey factors like frequency, headway, speed, single-track conflicts, and more. But instead of needing a straight-edge, ruler, and pushpins, Stringliner is here to produce stringline diagrams for the modern era.
Using the industry-standard GTFS data format for transportation information, Stringliner can produce a multitude of stringline visualizations with customizations for locations to plot, stop markers, coloring by line/direction/trip, combined lines with different reference locations, and more. You can also use a separate inventory of milepost locations and reference markers should you wish to further customize a line's display.
BYO GTFS and use its shape data, the existing milepost references, or add your own. You're only minutes away from easy stringline visualizations… just without the expensive software cost (as is typical in the industry).
All tools and content © Jeff Kessler / KASDAT Consulting, 2016-2023. All rights reserved.